Smooff Fold-Out Guest Bed
£79.00
New Stock expected: 'Awaiting supplier delivery confirmation'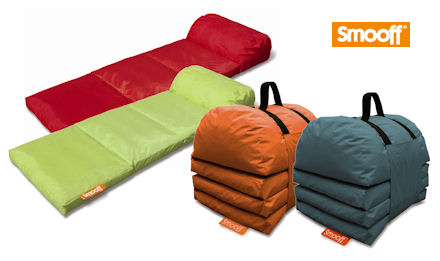 We love this neat new idea from our Dutch friends at The Smooff Company. The Smooff Lounge Cushy as they call it is a super lightweight (just 5kgs) fold-up mattress with a special Smooff foam filling that moulds around and supports your body.

Great for occasional use for unexpected overnight visitors, the Smooff Lounge Cushy can be folded out in seconds when company calls and then neatly stored in the bottom of a wardrobe etc. in the morning.

The Smooff Lounge Cushy is made from a tough waterproof polyester and better still it's treated with a UV protector to stop it fading which makes the Smooff ideal for use as a beach lounger or (if you're lucky enough to have one) by the pool.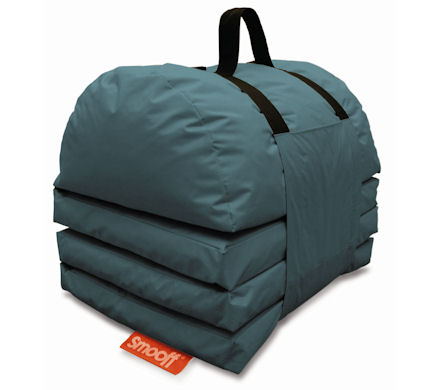 Our Chester STORE customers also suggest that the Smooff Lounge Cushy with it's integrated comfy pillow makes for an ideal camping mat and avoids the inevitability of arguing over who's going to blow-up the inflatable mattress before you settle down under the canvass for the night.

The good folk at Smooff HQ tell us that whilst they don't envisage our customers making the Smooff Lounge Cushy their regular bed, they "challenge anyone to stay awake" when your head hit's the Smooff pillow!

Breaking Smooff News...We've just sold a pile of Smooff Lounge Cushy's to our local yoga class to use as stylish yoga mats. What a great idea!

Smooff Lounge Cushy Dimensions:
Folded Smooff - 50cm x 60cm x 60cm
Unfolded Smooff- 200cm long x 60cm wide x 8cm deep with a 26cm pillow

N.B. Our Smooffs are couriered to you on our 'standard delivery' service as size restrictions don't allow us to send them on our express 'next day' service...It's worth waiting a couple of days though as they are just fab!
Price : £79.00 Sorry, this item is temporarily out of stock