The Nine Schools Qing Black and Gilt Console Table - Large
Free UK Mainland Delivery
So Sorry, this item is temporarily out of stock.
New stock expected Awaiting Supplier Information
Oops Please make sure all the required fields are completed.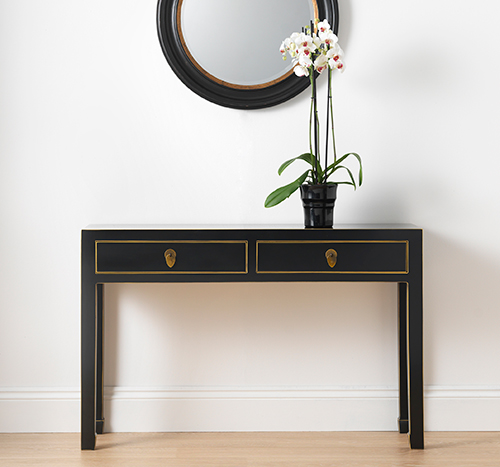 If you're looking for a modern piece to fill out some space, then look no further - our oriental style, large console table is the solution! The table has two drawers for hidden storage, plenty of desk space for office bits and bobs and the underneath is bare if you want to kick your shoes off in the hallway. Finished with a black and gold handpainted design and a clear lacquer, this piece will work as a console table, office desk or a beauty table.

Designed by Nine Schools who deliver storage space to compliment your lifestyle. The simplicity of the lines coupled with the rich finishing and adornments results in individual, attractive pieces. This piece will work in your home whatever your interior preferences may be.
Overall dimensions: 80cm high x 120cm wide x 35cm deep

Internal dimensions(drawers): 9cm high x 40cm wide x 28cm deep

Arrives fully assembled and ready for use.

Please allow upto 5 working days for delivery.

Unfortunately due to the weight of this sideboard we are unable to deliver to the following post codes in the UK for the standard charge:

AB, CA, CF, DD, DG, EH, FK, G, IM, IV, KA, KW, KY, LD, LL, ML, NE, NP, PA, PH, SA, SY, TD

If you would like to order a sideboard and live in these areas we can provide a delivery quote on 0844 414 2885.
Baumhaus
From the living room to the office, from the classic to the contemporary, Baumhaus has a range that is guaranteed to fit in with your style, design and budget.
Designed in the UK, Baumhaus prides themselves on the quality of the materials that they use ensuring that each piece is handcrafted and finished to the highest of standards. Every item from the Baumhaus range uses sustainably sourced timbers or some ranges, like the Urban Chic and Coastal Chic ranges, are made entirely from reclaimed wood.

Baumhaus are so confident in the quality of their products that they can guarantee them against defects and manufacturing problems. With a 5 year warranty it certainly gives you piece of mind that if an issue did arise it would be handled with the same care and attention as we do when receiving your order.
Baumhaus are proud to be the owners of Kinetic Logistics as for many years they tried to search for a courier who would reach their high level of expectations. Instead they realised that the only way they could achieve the service level was to do it themselves.

All of the Baumhaus pieces are not held in stock at our warehouse in Chester but are delivered direct from the Kinetic Logistics warehouse in Oxford. They have nationwide coverage, and they aim to deliver within five business days.

So Sorry, this item is temporarily out of stock.
New stock expected Awaiting Supplier Information
Oops Please make sure all the required fields are completed.
You may also be interested in these 7 products...