20% Off

Giant LEGO Storage Brick Drawers - Medium
Oops Please make sure all the required fields are completed.
£21.00
Details
Just like our original Giant LEGO Brick Storage Boxes, our glossy LEGO drawers are officially licensed to us by LEGO themselves and are faithful reproductions of the world's favourite bricks in design and LEGO colours but massively scaled-up!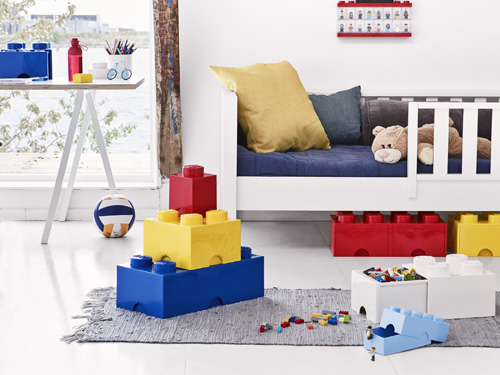 Click together like the original LEGO toy brick and off you go! These handy storage drawers come in several sizes and the contents of the drawers can be instantly accessed without having to unstack and re-stack these inspiring LEGO storage drawers.

We think they offer a great alternative in a nursery or kids bedroom to a chest of drawers, or in a kids playroom for a colourful and easily accessed and adaptable solution for toy storage.
Mix and match our Giant LEGO Storage drawers in your favourite colours and sizes to create a fab chest of drawers.

Our medium (4 knob) LEGO Storage Drawer Brick has an internal drawer which has a chunky cut out handle making it easy for little hands to open. The drawer can be fully removed making them great for playtime but it also has an innovative drawer-stop to prevent it falling out on little toes.

Dimensions: 18cm high x 25cm wide x 25cm deep

Internal Drawer Dimensions: 10cm high x 21.5cm wide x 22cm deep
Oops Please make sure all the required fields are completed.
You may also be interested in these 4 products...