Over door Shoe Rack - Large
New Low Price
Oops Please make sure all the required fields are completed.
You told us that you loved our standard overdoor shoe rack but requested we produce a similar but larger shoe storage rack that would accommodate shoes with heels at the same time.

Our modular over door shoe storage rack will (if your shoe collection requires) cover the entire back of a door with storage for both flat shoes and heels as you requested.

Finished in a classic and unobtrusive white, this unusual space-saving rack is already a best seller in STORE and is capable of holding up to 30 pairs of shoes both with or without heels.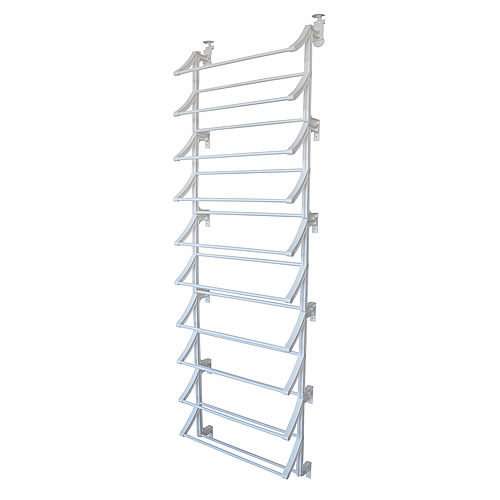 Dimensions: 165cm high x 50cm wide x 19.5cm deep.

Our over door shoe rack fits doors between 3-5cm thick.
STORE
Born in 2003 and opening up its first retail store in the heart of Chester city centre in 2004, it soon became apparent that online shopping was the next big thing. STORE became more mainstream and in 2005 we launched online as APlaceForEverything.co.uk with the primary focus of solving the nations storage and organisational problems. Today as a company we provide a range of well-made storage related housewares to clear the clutter shipping neat and tidy solutions across the UK and Europe.
Our STORE range of products is mixed and eclectic in style but since day-one products have always been designed, made and selected for their quality and problem solving design. Products are often slimline or space-saving, perhaps stacking to make best use of vertical space or just simple designed to effectively clear the clutter.
Oops Please make sure all the required fields are completed.
You may also be interested in these 3 products...