20% Off

LEGO Ninjago Lunch Set - Green 2019
So Sorry, this product is no longer available to buy, but we do have some similar products below that might work for you...
Oops Please make sure all the required fields are completed.
£9.50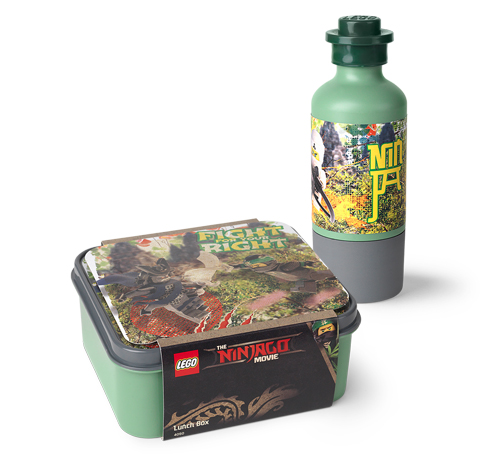 With the hotly-anticipated new Ninjago film release coming up in November, we've managed to take stock of our new 2017 range just in time!

A brand new addition to our 2017 LEGO Ninjago lunch range, the Ninjago lunch set is sure to make your child the envy of their classmates at lunchtime!

Complete with lunch box and drinking bottle made from tough, durable plastic to withstand any bumps, knocks and drops, the Ninjago lunch set are the perfect size for popping in a schoolbag to keep drinks and packed lunches safe until lunchtime.
Lunch Box dimensions - 6.5cm x 15cm wide x 13cm deep

Drinking Bottle capacity - 500ml
LEGO
Room Copenhagen was founded in 2010 in Copenhagen, Denmark and is part of the Nordic Houseware Group (NHG). They are specialists within brand extensions and holding licensing agreements with some of the world's most loved brands such as LEGO and Crayola.
LEGO lifestyle products allow consumers all over the world to engage with their favourite brands in their daily lives. Based on the imaginative and creative world that LEGO is, Room created a range of products to fill everyday life with. Though made with children foremost in mind, their products hold a place in any adults heart with a soft spot for the brand.
The Brick Storage system makes it fun and easy for kids to help tidy up their rooms, decluttering and organising as they go. Alongside the toy storage range is the lunch system which consists of a variety of lunch box styles and matching drinking bottles all fitting in with LEGO themes.
Oops Please make sure all the required fields are completed.
You may also be interested in these 3 products...