How to store Christmas Decorations
We all want Christmas decorations to be easy to find, easy to pack away and easy to protect from breakages, damage, mould and dust. This article will help you put together some terrific decoration storage ideas.
It's time to spruce up our storage...
Throw out the tatty, dog-eared and musty cardboard boxes – and bring in some shiny, new christmas decoration storage: it's now so easy to give your Xmas decs a festive makeover.
We've done all the hard work for you by creating a Christmas list of superb storage ideas that have all been tried and tested by us so you know they're seriously good. So now you can safely store everything away... baubles, lights, ribbons, wreaths, trees, tags and tinsel – all in one compact space in your loft, garage, spare room or even under the stairs.
So here are some hacks to bring order to Christmas chaos. 'Tis the season to relax: so now you can enjoy the festivities as it won't be such a chore to take down the decs before 12th night on the 5th January...
How to protect your Christmas decorations
Delicate decorations, such as baubles, or chritmas lights can cost a lot. So it makes sense to keep them safe, especially those tree decorations that have been made by the children. Here are some great ways to keep the family Christmas heirlooms safe for generations to come...
Our Decorations Storage Boxes are sturdy containers in clear plastic. They are fantastic plastic storage boxes, perfect for the holiday season. so it's easy to see what they contain. The insert trays are made of cardboard, which is so much more forgiving when storing delicate baubles and precious glass ornaments. Our 24-Litre Medium Box stores up to 45 baubles, while our 45-Litre Large Box stores up to 76 baubles.
Plus, we have more options with our 15 bauble Fold flat Cardboard Box or our 48- or 72- Bauble Storage Bags.
Top Tip: Add labels to your storage so it's easy to identify what's inside and what should go back in afterwards. Go one better: label your lights and garlands for where they go around your home, so you don't have to remember and re-measure everything next year.
We know that not all baubles are created equal. Some are tiny and some are not baubles at all... they can be crystals and candy canes, birds and butterflies, reindeer and rocking horses , hearts and holly, stars and Santas, stockings and snowflakes. But here's one size storage that fits them all...
Our Set of Dividers for drawer or storage boxes are like double-sided combs: so they can slot together or be cut to suit any size baubles. They could work a treat with low-level underbed storage too. And for only £7, even Santa would save money here.
Top Tip: Here's an egg-celent storage idea for storing small baubles and ornaments: use egg cartons.
How to store your Christmas tree lights so they don't tangle
If you want a top tip for tangle-free lights, try our Set of 2 Fairy Light Storage Winders and tie a ribbon to the first and last light, so next year it's easy to find where to unwind it from. Great for tinsel storage too.
To store your outdoor LED cable lights, try this handy Outdoor Fairy Lights Storage Bag.
Top Tip: Hoard boxes, shoe boxes and especially smaller boxes to store inside larger ones: then you can divide up all your Christmas decorations into sorted sections that are easy to find and put back.
Christmas storage isn't just just for decorations
If you've been searching for big cake tins then so have we. Our Extra Large Cake Tin, is perfect for Christmas cakes, Simnel or wedding cakes to keep them airtight...
Plus our Wreath Storage Bag keeps your Christmas wreath safely stowed away from dust.
Top Tip: Looking for how to protect your Christmas decorations? Try recycling your gift wrapping paper by shredding it and using it as protective packing.
What is the best Christmas Tree Holder for you?
Strong and sturdy, our Christmas Tree Stand lasts a lifetime, is adjustable to hold almost any size Christmas tree, plus it keeps them watered so you keep more of their needles.
If you have an artificial tree, then our heavy duty pop-up Christmas Tree Storage Bag keeps your tree dust free all year...
How to display your Christmas cards
Clip them to vertical strips of ribbon, or hold up to 30 Christmas cards neatly and tidily with this Greetings Card Holder.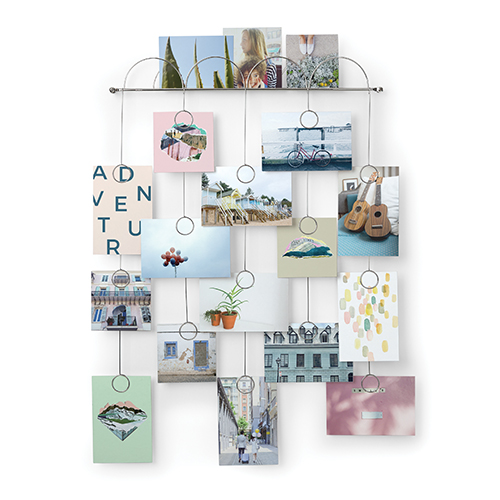 Gift Wrapping Paper Storage
We've got Christmas all wrapped up: from tags to tape, bows to ribbons, string to scissors, plus all your rolls of paper... there are so many bits and bobs to perfectly wrap up the presents for Christmas, Easter, birthdays or any special occasion. Now you can store them all together in one place. There's even room for bubble wrap!
Our Gift Wrap Storage Box has two internal trays – plus it stores neatly under a bed.
Or store more on your door or your wall with our Elfa Over-Door Gift Wrap Store, or our Elfa Paper Hanging Rail.
Or just pop your paper into a bag
We love this... Ribbon Dispenser Box – it holds 6 ribbon spools that you can just pull out whichever one you need: so clever.
Everything shown above is part of our extensive collection of Christmas Storage. So go on, give your home a festive present this year with some decoration boxes – and just like Santa, we deliver.
Want something different? Just call our Storage Experts on 01244 680 501.