By stealing some inspiration from Marie Kondo
The Decluttering Dynamo!
The Netflix series Tidying Up with Marie Kondo has set off a decluttering craze in the UK. Marie Kondo is a Japanese organising guru with a simple twin-track approach tidying approach:
Gather everything you own: ask yourself if it sparks joy. If not, thank it for its service and get rid of it.
Put your remaining joy-sparking belongings in a place where they're visible, accessible, easy to grab and to put back.
Kondo says to tackle categories – like shoes – rather than rooms. Once you've cleared your shoe clutter, you're rewarded by feeling joy, pride and satisfaction, both when you've finished and every time you open your shoe storage to get ready.
The bonus about doing this with shoes is that Kondo loves to use leftover shoeboxes as organisers e.g. for drawer dividers for folded clothes etc.
Embracing Kondo's know-how, here's our take on top shoe storage...
They're in here somewhere, I know it...
If you're like me, you'll love shoes. The trouble is they need a place to be stored. We've tested the best shoe storage from smallest to biggest, cheapest to dearest, smartest to most stylish.
Shoe storage keeps all your shoes in one place, so they're easy to find: no more being an intrepid explorer delving into the back of your cupboard or wardrobe on a search and rescue mission.
Top Tip: No more nasty niffs: try bags of pot pourri, lavender or even some special carbon neutralizing pads which can absorb amazing amounts of odour particles to create cleaner, fresher air.
Where's best for your shoe storage?
Closest to your clothes in your bedroom is logical: it's easy to check how they co-ordinate or contrast with your outfits.
Don't forget all the kids' shoes too – for school, sport, play, plus wellies and more. Now you can tidy them neatly away – and in pairs too: none of the singular sock syndrome.
How about in your hallway or porch? Swap your work or leisure shoes for slippers, so you're not bringing outdoor dirt into your home, not causing extra cleaning and not damaging your floor. Plus, you relax straightaway: taking off your shoes symbolically leaves behind the day's stresses and strains.
Shoe Racks
Usually the cheapest option. Your shoes are close to hand, but on show so they'll need more dusting. Just like Shoe Cupboards, they take up little floorspace, so you've more room to move around.

Who says that shoe storage has to be on the floor?
Our über-cool Wall Mounted Shoe Rack gives storage a different dimension. It's literally an off-the-wall idea: your footwear floats in mid-air. You can proudly display them to admire their alluring beauty.
The small rack holds 4-5 pairs, the large size holds 8.

Can't find the right rack for your gap?
For anywhere, even inside your wardrobe, our £22 double-layered Stacking and Extending Shoe Rack s-t-r-e-t-c-h-e-s to fill a space from 63-113cm wide – holding 6 to 10 pairs of shoes: that's from just £2.20 to store each pair. Stack 2 of them for 4-tier storage and save more floorspace.
Looking for more style?
Try our Ashwood Shoe Bench, designed by Sebastian Conran – the son of Sir Terence and brother of Jasper. Oozing effortless style, its top shelf is for slippers and flats; underneath for high heels and ankle boots.
Crafted from ash veneer and steel, it's halfway between a shoe rack and a shoe bench – which could be handy when putting on and taking off your shoes.
Better on the eye – and the nose – plus they need less dusting. They give your home a streamlined look: less clutter to distract the eye and depress the heart.
They close away odours too, but usually have vented slats or open backs so air can circulate.
Size matters. Some only store up to size 10. If you've bigger shoes, a Shoe Bench may give you more room – some have basket storage too.
Store more vertically
Our Slatted Shoe Storage Cabinet – shown here in Mahogany-effect, but also available in White – beautifully hides away up to 9 pairs.

Designer Style
These two vertical opening cabinets by renowned Finnish designer Ristomatti Ratia have style, superb build quality, two pull-down drawers and open backs for ventilation. Our Merton Shoe Cabinet in White with Oak or Walnut holds up to 9 pairs.
Our NewEst Shoe Storage Cabinet in Oak or Walnut holds up to 20 pairs.

Generally bigger and more substantial, you can sit down to take off and put on your shoes. But they don't maximise your vertical space. They're smart enough for your bedroom, porchway, hallway or at the top of the stairs.

Shoe Benches needn't be fixed
Our
Handbridge Storage Cube Hallway Bench
in White or Oak finish has 3 separate cubes that can fix together. Plus, you can have them as open shelves or with lidded canvas storage boxes.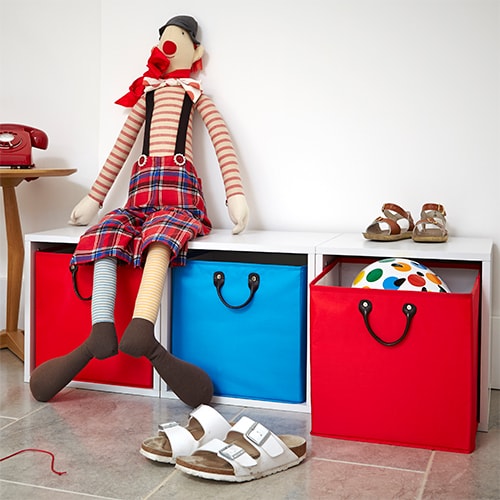 No more abandoning shoes on the floor
Our top quality 3-in-1 Wooden Hallway Bench and Shoe Store has a bench, 3 shoe baskets for shoes, plus 3 drawers for hats, gloves, dog leads and more.

Looking for a more traditional Shoe bench?
Our
Farnworth Shoe Storage Locker and Bench
in fir wood has classic cubby holes and metal name holders. It's like walking back in time to a country house or old school boot room. But no more hopping around with one shoe on trying to get out the door so you're not late for class.
Not the right size? Don't worry, we have a range of
Farnworth and Chedworth
shoe lockers to suit pretty much any space
Over to you!
There we have it, a fresh look at sorting, storing and stacking your shoes. Everything we've shown above is part of the extensive collection of shoe storage. If you have a specific requirement - please call to speak with one of our storage experts.