Set of 4 Gift Boxes - Black
50% OFF
Oops Please make sure all the required fields are completed.
£16.00
Our set of 4 storage boxes are made from a sturdy paper faced cardboard and come with an easy to use button fastener.
Available in a choice of 4 colours, our boxes can be used for little ones to hide away their treasures, to store cosmetics, hair accessories etc in the bedroom or how about as a stylish display in the living room for all of those bits and bobs that never seem to have a home.
Some of our Chester customers also suggest using as gift boxes for Christmas, Birthdays etc.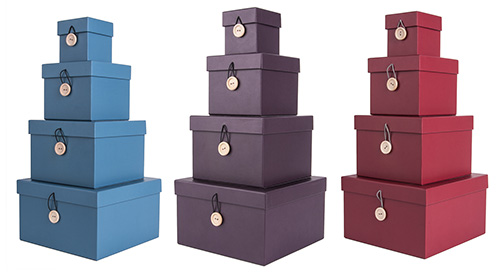 Dimensions: 8cm high x 7cm wide x 7cm deep 10cm high x 11.5cm wide x 11.5cm deep 11.5cm high x 15.5cm wide x 15.5cm deep 12cm high x 20cm wide x 20cm deep

Present Time
Specialising in wholesale gifts and home decoration items, Present Time's mission is to allow contemporary design to add fun and a personal touch to life. In the early 1980's a small gift company called Kaleidoscoop started and due to the success of this company it merged with Clockwork until they decided to combine their strengths under the name Present Time.
In 1999 they expanded again by buying two other companies, Karlsson and Leitmotiv. Today these companies are still recognisable as key brands to the business. Their creative department travels the world to surprise everyone with their new collections twice a year based in Almere in the Netherlands.
Oops Please make sure all the required fields are completed.
You may also be interested in these 5 products...