Guitar & Plectrum Display Stand
Oops Please make sure all the required fields are completed.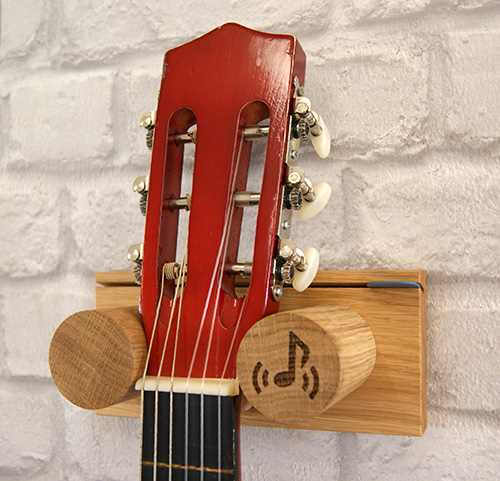 We actively visit designers all over Europe and North America to source decent quality handmade items like this but rather embarrassingly (for us) stumbled across designer Gafyn and his fab solid oak storage products a few years ago when our M.D. Simon discovered Gafyn's workshop just 5 miles from home in Wales!
Delighted that Gafyn has decided to develop his body of work with STORE, we're pleased to introduce his new range which includes this unique hardwood wall mounted guitar and plectrum display stand.
Handcrafted from solid oak, our guitar display stand has been designed to store and display your favourite electric or acoustic guitar alongside a couple of plectrums and is finished with an engraved musical note icon.
We think it makes for a great gift idea for that music lover in your life and of course, is fully adjustable to securely hold any style of guitar gently by the neck.
Dimensions: 9.5cm high x 18cm wide x 8cm deep
Mijmoj
MijMoj offers a selection of great selection of contemporary furniture products and interior accessories that are all handcrafted. Using mainly hardwoods such as oak, ash, beech and walnut they often combine other materials such as glass, metal and plastic in order to add aesthetic detail and functional appeal to the design.
A bespoke service is offered on their smaller items in the North Wales studio workshop and personalisation on hooks like our Solid Oak Welly Rack help to add that personal touch to their designs. As each product is hand finished, each one of them are unique meaning that every purchase is that little bit special. Using their small team of dedicated craftsman, you are sure to see how every MijMoj product is lovingly crafted and built to last.
Oops Please make sure all the required fields are completed.
You may also be interested in these 3 products...