Any Angle Clothes Hanging Rail - Zebedee 60cm
What a Clever Idea!
Oops Please make sure all the required fields are completed.
Thanks to the power of happy customers we've joined forces with our lovely designer friend Diane who's created the Zebedee clothes rail for us which can (amazingly) be used at almost any angle.
Handmade in UK for STORE, The Zebedee Any Angle clothes rail is easily mounted, making it a great choice for use in a dormer bedroom, loft conversion wardrobe, under the stairs cupboards or clockroom etc.
Crafted from top quality stainless steel, the Zebedee has a galvanised steel spring coil which spirals around the central rod, allowing you to pop a hanger on each turn of the coil, spreading your clothes evenly and stopping them from slipping down the rail.
For years we've looked and there's nothing quite like the Zebedee! Hang longer garments such as maxi-dresses, winter coats etc at one end and shorter shirts and blouses at the other.
Our 60cm rail will hold approximately 20-25 items but if your space allows, why not mount a couple side by side for a larger 'any angle' wardrobe solution.
The steel finish is sure to fit in with any decor, and our Zebedee Original is also available in a 900mm length if you have a little bit more space to fill.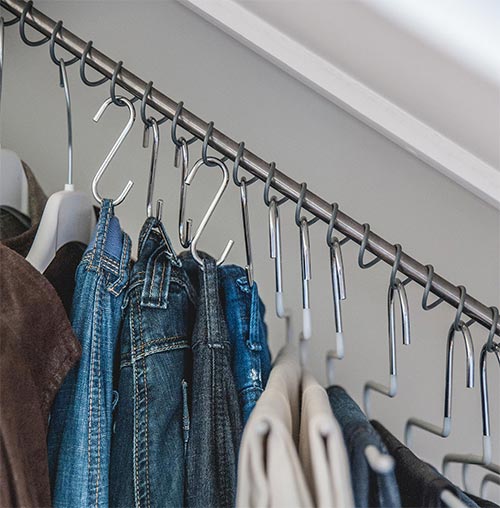 Dimensions: 600mm long
Please note that we can also manufacture the Zebedee Original in lengths of 500mm, 700mm and 800mm if you need an alternative size. Please contact our customer service team on 0844 414 2885 or drop an e-mail to info@aplaceforeverything.co.uk
Zebedee
No brand information available yet for this product.
Oops Please make sure all the required fields are completed.
You may also be interested in these 4 products...