20% Off

Elfa Garage Storage Organiser - Starter Pack 2
Oops Please make sure all the required fields are completed.
£209.00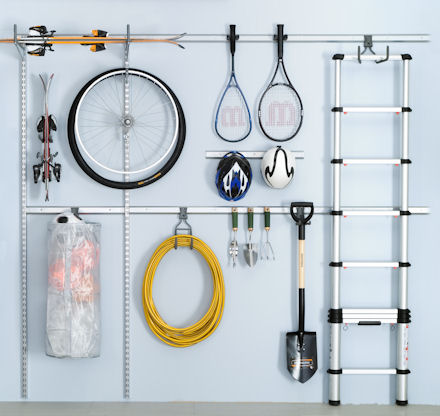 Details
Our tidy new elfa utility starter pack in platinum is designed to make the best use of your garage storage space. The pack include a cushioned ladder hook; garden hose organiser; multi-tool holder for your garden spades and forks; a giant sturdy mesh bag for footballs and other garden toy storage; several compression clips for tennis rackets or mops and brooms; a variety of smaller hooks for tools, as well as our handy 'bracket posts' to store long items such as planks of wood or skis.

This starter kit includes 2 x vertical wall bars (left of photo) that simply clip into our horizontal top tracks, and if required elfa shelves can simply be clipped into these if you wish to bespoke this storage solution with shelving for additional storage.

Dimensions: 2.6m wide x 2.1m high

If your available space doesn't meet this criteria, we'd be happy to plan a custom space at no charge, just email STORE at info@aplaceforeverything.co.uk with details or call 0844 414 2885

PLEASE NOTE THAT WALL FIXINGS HAVE NOT BEEN INCLUDED IN OUR BEST SELLING SOLUTION. BOTH SOLID AND HOLLOW WALL FIXING KITS CAN BE FOUND ON THE LINKS BELOW.
Oops Please make sure all the required fields are completed.
You may also be interested in these 4 products...