---
We are accepting orders as normal but working as a smaller team right now to remain safe. Given this, orders may take a little longer than usual to arrive with you.
We're aware that some of our courier networks are working at near capacity. Please allow 7-10 days to receive your order, in many cases it'll be sooner.
Stay safe, Team Store
Updated: 15/07/2020
You can create your own Elfa shelving & storage solution in this section by following 5 easy steps:
Select Top Tracks, Vertical Wall Bars and Fixing Kits to suit your overall dimensions
Add Brackets and (if needed) Elfa clothes rails
Choose the number of ventilated or wooden Elfa shelves you'll need
Bespoke your solution with some clever storage ideas including shoe racks, gliding drawers, solid wooden shelves and trouser organisers from our Elfa decor and gliding Elfa drawers listings
Finally, take a look at the other Elfa accessories available to help you make the very best use of your storage space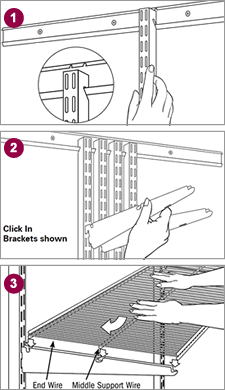 These are the building blocks for all Elfa There are nine categories of components:
1) Top Tracks and Wall Bars
These horizontal Top Tracks are the only item in the range that needs fixing to your wall – so the rest of your wall isn't peppered with drill holes. You then just hang vertical Wall Bars down from these tracks and everything else simple clips in. So simple, so easy, so Elfa.
Not all walls are created equal. So there are Screw Fixing Kits are solid or hollow walls. For a cleaner, smoother, more finished look, there are Top Track Covers which cover up the screws, plus Wall Bar Covers. It's so easy to cut them to fit with scissors.
2) Elfa Brackets and Clothes Rails
No need for drilling, these Brackets and Hanging Clothes Rails just click into the hanging Wall Bars
3) Solid and Ventilated Shelves
Ventilated Mesh Shelves and Baskets are versatile for any need and as they're made from mesh, they allow everything to breathe: so they're especially ideal for food, towels, bedding and clothing.
Solid Wooden, Melamine and Metal and Shelves and Trays are strong and robust: plus they stop anything from falling through.
Shelf liners are available for mesh shelves to stop items from falling though. They're ideal also for as drawer liners.
4) Décor Wooden Storage
If you love solid wood then you'll love our décor and facia range from Elfa: in Birch, Walnut, White or Grey finish to give you Elfa storage more of a finished look of furniture. Solid Wood Drawer Fronts, Drawer Dividers plus even Trouser Glides, so that it's easy to remove trousers from hangers and they help prevent creases too.
Plus there are Wooden Jewellery Boxes with compartments and lids to keep out dust. Plus nickel, bronze or leather handles
5) Gliding Drawers
Choose from a wide range of gliding basket drawers to suit almost any height, width and depth. They're all in Platinum or White Elfa finish. Choose from open wide-mesh drawers for air circulation; or tight-mesh drawers. Or go for solid translucent polypropylene lidded drawers to protect whatever you put in them from dust and sun damage.
6) Accessories.
These are finishing touches that can bring the whole ensemble together and give it a fantastic flourish.
Take a look at everything from Mirrors and Mesh Baskets to Hooks and Hangers – and from Drawer and Shelf Dividers to Shoe Racks and Under Shelf Storage. There are Rails and Runners to Trouser Gliders Tie & Belt Racks.
7)Traditional Twin-Slot Shelves:
THE STORE: We also carry a large stock of traditional Spur compatible twin-slot Elfa uprights that can be screwed directly to the wall (the old fashioned way!) as well as twin slot solid brackets, bookends and white melamine shelves for offices, libraries, stockrooms, book shelving etc. If you can't find the sizes you require below, please contact our Elfa shelving and storage hotline on 01244 680 501 or email us info@aplaceforeverything.co.uk
8) Freestanding Shelving System:
THE STORE: If fixing your Elfa system to the wall is simply not an option, try our Elfa Freestanding shelving system instead. Elfa Freestanding has all the functionality and flexibility of the wall mounted Elfa system but with 'no screws required'. In a matter of seconds everything can simply be clipped into the handy freestanding Elfa feet and uprights listed below. All our shelves, brackets, gliding basket drawers, trouser organisers and other neat Elfa accessories are compatible with this clever new system, so choose your freestanding essentials here then add whatever components you need to create your perfect Elfa solution.
9) Garage and workshop:
THE STORE: We can help organise your workshop, garage or utility room with our new range of Swedish made Elfa Garage storage. Used alone or within a wider Elfa shelving project, our tool storage hooks, parts storage bins and hangers will keep your workshop looking as organised as any professional garage. Our neat new Elfa Garage storage system is great for utility rooms too making clever use of space for mops, brushes and ironing boards etc. Our customers also suggest using it for sports gear and garden tools etc. and as usual with Elfa, everything is compatible with our modular standard Elfa shelving.