Shoe & Wardrobe Storage Drawers - Large
NEW LOW SALE PRICE!
Oops Please make sure all the required fields are completed.
£12.50
We've tried and tested a fair few of these interlocking stackable shoe storage drawers in the past and rejected them all on quality and usability.

It's taken us a while but we decided to design our own, incorporating our classic STORE clear plastic men's shoe storage box into the sliding stackable drawer design.

We're delighted with the result which makes for an ideal storage drawer to pop in the bottom of a wardrobe, on a shelf under the stairs or in a cloakroom to organise your shoes and (as shown above) can also be used for clothing too.

Easily stacked (to make best use of space) into a robust yet stylish drawer tower, these modular storage units can be configured to suit your specific space requirements and shoe collection.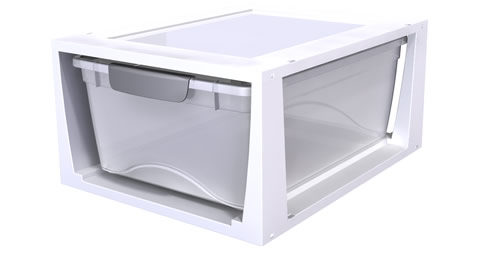 The clear plastic drawers make for easy identification of the contents without the need to rummage around in the bottom of the wardrobe unstacking shoe boxes to find those smart brown work shoes.

Each unit comes with a sturdy removable clear plastic handled shoe storage box and white drawer frame ready for stacking in your chosen configuration to create a bespoke shoe storage unit to declutter and re-organise your space.

External Dimensions: 17.5cm high x 29.5cm wide x 37.5cm deep

Internal Dimensions: 14.5cm high x 21.5cm wide x 31cm deep

Each plastic storage box has an 11 litre capacity

N.B. Top image show 4 x stacking shoe storage units at £12.50 each
STORE Plastics
No brand information available yet for this product.
Oops Please make sure all the required fields are completed.
You may also be interested in these 7 products...