How To Clear Kitchen Clutter
Organising Your Kitchen Space
We love our kitchens being the hub of the home. But it's hard to balance the practical with the beautiful. We show you how.
Our simple solutions help make your life easier, make meal preparation quicker, waste less food - plus store more.
It's also incredibly satisfying: you'll have a proud sense of achievement. Clearing clutter means less stuff on worktops, giving your kitchen back its showroom good looks. So it's more welcoming for friends and saves you work as less surface area needs cleaning.
Like most storage projects, we use a proven three stage formula: Clear out, clean out and sort out.
Clear Out
Remove everything from your cupboards. Recycle out-of-date food. Give away in-date food to a food bank that you won't use again.
Top Tip: Have cardboard boxes or a large table set-up for cupboard contents when you clear them out.
Sort Out
Here's where our clever storage solutions maximise your space.
Measure Up
Measure the height, width and depth of your storage space and shelves.
Top Tip: Also measure the opening space: often doors and hinges means that the space you have to take items from is slightly less than the maximum inside width.
Choose the items you need
...baskets, canisters, rails, vertical storage. Fortunately we have them all - and all without spending a fortune...
It's in the can
Transfer everyday items... sugar, coffee, flour, lentils and rice etc. into canisters. Remember to pop-in the cooking instructions. See-through canisters make it easy to identify the items at a glance, plus see when you're running low.
Squaring the circle
Who says storage should have rounded containers?
Not us.
We love storage containers with squared-off profiles. They maximise every nook and cranny in cupboards, fridges and freezers. And as it's from us, you know they have a square-deal price too.
Our Omnia collection of kitchen storage canisters and Clear Kitchen Storage Canisters are two of our best selling square-edged solutions.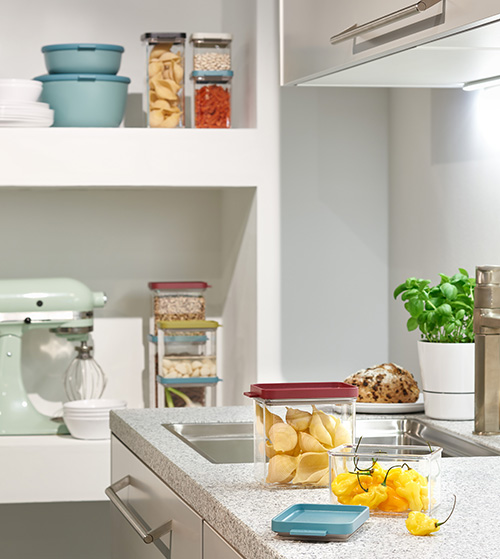 Add Shelf Liners
You could just add some sturdy lining paper, thick brown parcel paper - or even old wallpaper. They also help protect shelves from scratches - and glasses and cups etc. from chips.
Our easy-to-cut-to-size Elfa Shelf Liner is sturdy, frosted and any spills can simply be wiped clean.
Choose stacking storage
Our Stacking Lidded Fridge Storage has squared off edges and is indented - it's made to be stacked.
Under-sink solutions
It's an awkward problem area. But our clever Cabrini Under Sink Organiser e-x-p-a-n-d-s from side-to-side from 48-64cm to fit around your plumbing.
Our Elfa Easy Glide Storage in 35cm or 45cm wide Baskets give you easy under-sink access. Just slide out the basket on runners, grab what you need and slide it back.
It's buried in the cupboard somewhere
Invariably the item you want is hiding at the back. You then have to pop on your pit helmet and set out on an arduous trek through the jungle of jars until you find it. Then put everything back again.
Surely there's a simpler way?
There is...
Our Elfa Basket & Universal Runners stop items getting lost or forgotten. You simply slide out the whole cupboard contents in baskets on rails.
Storage for everything
We've oodles of storage options for cupboards, drawers and fridges: / wicker storage baskets, storage boxes for Tea Bags, Meat and Cheese. Plus, storage for Packets, Water Bottles and an Egg Slide tower. We've even a Lazy Susan-style in Cabinet Turntable and Corner Storage.
Top Tip:
Add hooks inside cabinets for tea/coffee cups, to free up the space underneath.
Top drawer solutions
Thrown in cutlery and utensils look cluttered, can damage knife blades and the noise can grate on your nerves. Try our Drawer Organiser Sets, In-Drawer Spice Racks, and Cutlery Trays.
Top Tip: Store spices and herbs away from your cooker or hob as heat can kill the flavour.
Store more on your door
Maximise your vertical space, minimise your footprint. Our Elfa Door and Wall Rack stores items on your kitchen doors or inside/outside long cupboards. Our Kitchen Over Cabinet Hook, Kitchen Over Cabinet Towel Rail and Cupboard Door Carrier Bag Recycling Bin store more on kitchen cabinets and drawer fronts.
Stow, stash, stack - upwards
We've Vertical Plate Racks, Stacking tiered shelves for inside cupboards and under sinks, plus clever Mesh Under Shelf Baskets to hang underneath shelves/kitchen units. Or store on your wall with our Utensil Holder.
Top Tip:
Use stacking tiers to separate dinner plates from side plates and bowls.


Our stackable bin is a super space-saver. Made from recycled plastic, it maximises your vertical space, only using one small footprint however many bins you stack.
A way with wine
I cook with wine, sometimes I add into food. Have your favourite plonk to hand. We've made to measure freestanding, stackable to your ceiling, and hung on your wall.
Meals on wheels
We've great storage from Pantry Storage Units to Kitchen Trolleys and Butcher's Blocks. Wheel them out whenever you need them and back afterwards to save space. The tops add extra work surface and they're great too for patio barbecues and al fresco dining.
Over to you!
Take a fresh look at organising your kitchen. Everything shown above is part of our extensive collection of kitchen storage. Need something different? Please call to speak with one of our storage experts.