How to get organised with Shelving
We love shelves. They are simple, spacious, great value and so easy to put up. And they go everywhere.

We've 100+ shelves in every shape and size, from functional to funky, practical to pretty.
Some fix to the wall, some lean against it – and some are freestanding.
Every shelf has been road tested by us, so we know they're fit for purpose and won't let you or your possessions down.
Here we shortcut your way through to the very best shelf solutions to suit you, your home and your style. We've sectioned them up by Place, Purpose and Type.
Where do you need shelves?
There isn't a room in your home that can't benefit from shelving. Even your bathroom, your porch, or your outside walls.
I need shelves for the Bathroom
We've beautiful Bathroom Shelving to suit you, your style and your space... breathable mesh shelves that are ideal for towels; wooden shelves, freestanding shelves and space-saving shower caddy storage for shampoos and shower gels...
Our Cubiko Bathroom Cabinet has handy open shelves behind the mirror front for medicines, toiletries and toothbrushes.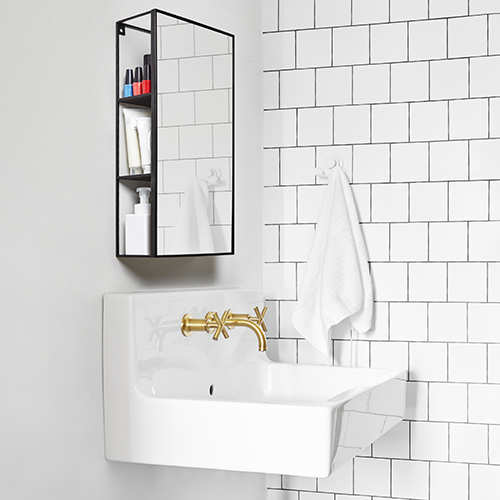 Our Bedroom Blog is packed full of inspiration for your room or dressing room – plus your kids bedroom room – and if you want to organise your wardrobe and maximise your space .
Now you can clear all the little 'uns clutter too. Hardwearing, strong and easy to clean off sticky fingers, we've the looks they'll want at the price you'll love.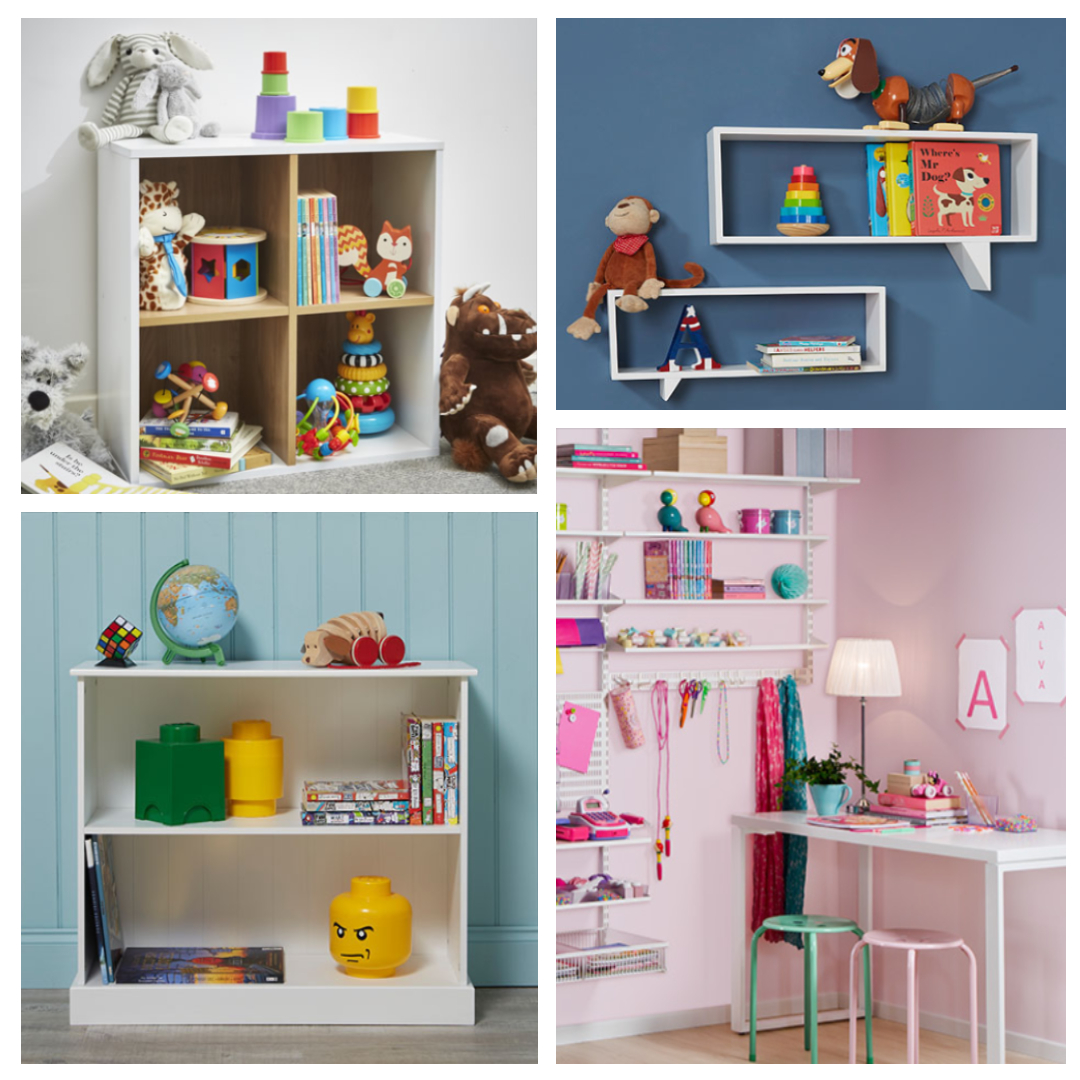 From bottles to barrier cream, bibs to babygrows... it's astonishing how much new babies need. Our nursery shelving keeps everything in the right place so it's all to hand.
Top Tip: Want our bathroom cabinet in your lounge? Or our home office shelf in your utility room? That's fine. You know what works best for your home, your style and your space. So mix it up.
Of course a lounge can have any shelving... modular or display, metal or wood, on its own or in a cabinet.
Stacking shelves are ideal too, against a wall or as room double-sided storage and display dividers. Have fun configuring our Tetris-inspired Stacking Shelves horizontally or vertically. Have them together in one place, or in several locations... in an alcove, along a wall or under a sloping ceiling.
I want Hallway and Cloakroom Shelves
We've great ways to store shoes when leaving home, plus for your cosy slippers to warm your tootsies when you're back. Plus, many options have coat hooks too.
Make your home office more welcoming: cleared clutter means a cleared mind, improved concentration, racing through paperwork and better ideas.
Our Elfa Home Office Set and Elfa Office Shelving Solution are best-selling solutions giving you bags of room for stationery, files, manuals and reams of paper.
Pots, pans, cups, plates, tins and jars – our stacking storage helps maximise your kitchen storage in cupboards, on work surfaces and under the sink.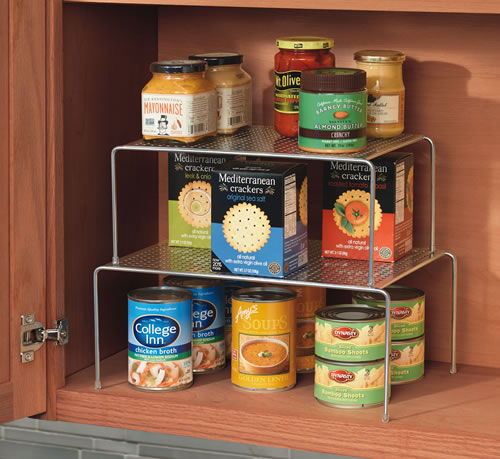 Our 4-shelf Slimline Kitchen Trolley rolls out the way after use...
I need Utility Shelves

Elfa Utility Room Storage sets are laundry room best sellers – and no wonder. They're ventilated for soap powder and clothes, plus they have rods to drip dry clothes.
Looking to organise your paint pots, engine oil and DIY tools? Need some shelves to declutter your plant pots, fertiliser and garden tools in your shed?
Our Elfa Storage sorts them all out, once and for all.
What type of shelves do you need?
You'll be surprised how many different types of shelves there are...
I need Modular Shelves
We love them. They're modern storage for anything in any room that adapts to your needs...
Our modular Oak Gyan Storage Triple Unit has 5 height-adjustable components including a desk and 2 cabinets. Ideal for your lounge, bedroom, kid's bedroom, playroom, or home office etc. Each upright has 28 holes, so as a homework desk, you can raise the height as they grow.
Elfa Shelves – one of our most popular modular storage systems. Elfa shelves help you maximise your vertical space even in tight spaces – see examples for every room in this blog.
We've 100+ Elfa solutions for everything... clothes and cosmetics, towels and toiletries, books and boots, games and gadgets, art & craft items and Christmas decorations.
Why is Elfa the all-in-one solution?
Elfa is modular: it's adaptable – rejig it anytime as your needs change, your family grows and your life evolves.
Elfa is portable. Move it from room to room or home to home.
Elfa is quality. The wall-bars bear more weight than traditional shelving, plus it's all guaranteed for 10 years.
Elfa is easy to install. Just screw in the horizontal top track into a solid or hollow wall and everything clips on and hangs down. It uses minimal screws, so your wall isn't riddled with holes.
I need Freestanding Shelves
Are you renting your property and forbidden to fix anything to your walls? With no fixings, our freestanding storage is ideal. Take it to any room and with you when you move home.
Our cute kids' Teepee Freestanding Shelving Unit is in on-trend White and Grey – neutral shades to suit any colour scheme.
Our Nostra Shelf Unit oozes Scandi bathroom style with bamboo and 2 White, lipped shelves for toiletries, cosmetics and ornaments etc.
I'd like Ladder Shelves
Our quirky six-layer Large Oak Ladder Shelves gives storage a new angle. In 48/96cm widths, they're ideal for your hall, landing, alcove, bedroom or home office for books, plants, photos and proud displays of prized collectables. Put away your toolkit: they're ready assembled.
Prefer to have natural beauty in your home? We have shelves in pine, oak, mahogany and more for your bedroom, dressing room, lounge and kitchen.
What do you need shelves for?
I need Bookshelves
Love books? Then you'll love our bookshelves in wood or metal, in tiers or in cabinets...
Our Conceal Book Shelf appears to flat in mid-air by magic. Ideal for recipe books, bedtime reading and displaying ornaments.
In White, Birch, or Walnut-finish, our Elfa Book Shelving Best Selling Solution II has 6 adjustable shelves to fit both big and small books. Have it in neat rows, or stagger them left and right.
Kids' bookshelves: one size fits all without the fall.
Our Set of 2 Kids Gallery Bookshelves are perfect storytime as oversized children's don't fit onto regular sized shelves. No looking at the book's spine: they can now see exciting front cover – which encourages their reading and development.
Now you can store all your shoes neatly with our huge choice of solutions, so you can sort, store and stack your shoes in your hallway, bedroom or both.
Our strong wooden plant stands are great for outdoors, or for bringing the outdoors indoors by having them in your conservatory or kitchen.
Our hand-welded steel Farringdon Box Shelf is perfect for storing books and cookbooks, towels and toiletries, plants and potted herbs etc., or having some trailing plants growing from it.